Description
The DK20A is the AUTO-RELEASE "Pop-Up" version of our largest manual clamshell. This amazing high-tech feature makes your Digital Knight clamshell act like a semi-automatic, air operated press, without the compressor! Simply close the press as you normally do, and at the end of the digital timing cycle the press releases automatically.
The Auto-Release upgrade also features the "HOVER" feature. This means when the handle is lowered without fully clamping the machine, the press will hover over the work, usually needed for curing purposes. At the end of the time cycle the press releases automatically as usual.
The DK20A 16×20 clamshell press opens for full access to the lower bottom table. It is important to note that the back of the heat platen raises above and away from the bottom table, providing better access than other clamshell presses. The frame support allows operators to slide shirts over the table with complete drape space around and underneath the loading area. Interchangeable bottom tables for smaller pressing areas are available. This press is ideal for environments with space limitations, and for users who need more portability and mobility than the over-weight swingaway presses.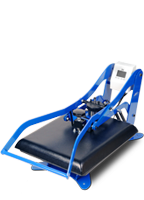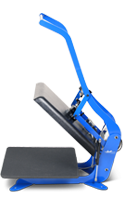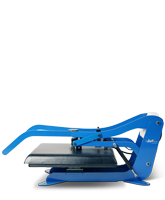 FEATURES
All-Thread™ table loading design
Auto-Release POP-UP automatic open at end of time cycle
Auto-Release "Hover" position cures materials without pressing
Fully digital temperature control 32°-600°F range
Automatic digital timer & dual pre-press timer
Digital Pressure Bar Graph
Super-portable light machine weight – 103 lbs !
Extreme high pressure capability
Hardened high-strength pivot points
Interchangeable tables
Solid Steel framework
SuperCoil-Microwinding™ heater technology
Self lifting gas-spring, & wide opening
Temperature readout accuracy +-2°F – can show °C or °F
User selectable end-of-cycle alarms
Records number of pressing cycles done
Teflon-coated 3/4″ thick heat platen
WARRANTY
FREE LIFETIME Tech Support!
Lifetime warranty on heat platen
5-year warranty on frame
3-year warranty on controller
1 year warranty on parts
Customer is required to pay shipping on this item. Please call or email for quote.