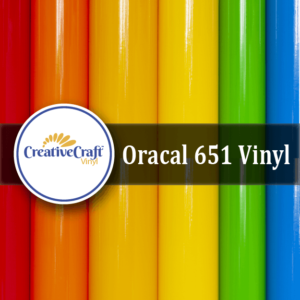 When you're diving into the world of vinyl crafting for the first time, it can be confusing to see so many different brands, types and numbers all jumbled together on a crafting shop website or DIY blog. We understand how overwhelming all of this information can be, which is why we have created this series of articles to help you learn about some of the most popular types of vinyls. This post will teach you all about 651 vinyl, which is a permanent, adhesive type of vinyl that is typically used for indoor and outdoor creative projects.
Oracal 651 is classified as an intermediate calendered vinyl. "Calendered" refers to the manufacture method of using calendering rolls to press it into a film. This makes it thicker and slightly less durable than its cast vinyl counterpart, but it is still perfect for a number of crafts.
651 vinyl is rated to last in both indoor and outdoor conditions for up to eight years, and it comes in a wide variety of sizes and colors. In addition, it is made with a solvent-based adhesive and an inherent flexibility that allows for lots of creativity and depth of design.
What Is Oracal 651 Vinyl Used For?
The truth is that Oracal 651 is incredibly versatile and great for a long list of crafting projects. It is often labeled as a "permanent outdoor vinyl," which means that it can withstand plenty of wear and tear.
This makes it ideal for projects such as:
Car stickers
Business signage
Indoor and outdoor wall art
Professional-quality labels
Drink tumbler designs
There are so many fun and creative projects that you can use 651 vinyl for, so don't be afraid to order samples and experiment.
Common Questions About Oracal 651 Vinyl Uses
Is it dishwasher safe?
When it comes to vinyl decals, "dishwasher-safe" is a relative term. The high temperatures and extreme humidity of a dishwasher will eventually weaken the adhesive of even the toughest vinyls.
You can apply Oracal 651 to tumblers, mugs, plates and other items that need to be washed regularly, but it is best to wash these items by hand in order to extend the life of the vinyl.
Is Oracal 651 heat transfer vinyl?
Oracal 651 is a permanent adhesive vinyl, which is different from heat transfer vinyl. You do not need to use heat to apply 651 vinyl to any surfaces.
"Is Oracal 651 iron on vinyl?," is another question that many beginners ask, and the answer is that heat transfer and iron-on vinyl are the same. Certain craft brands and hobbyists will say HTV, and others will say "iron-on," but they are referring to the same product.
How long does it last?
Oracal 651 vinyl is rated to last up to eight years with proper care, so while it will not last forever, it has a very long life span and cannot be easily removed once it is placed.
Is it removable?
With the correct tools and solvents, you can remove 651 vinyl from the surface it is adhered to. However, it's important to keep in mind that it will likely cause damage to the surface underneath, especially if it is a thin or painted wall.
If you are in need of a vinyl that is meant for more temporary applications, Oracal 631 is the preferred choice.
How thick is it?
Oracal 651 vinyl is 2.5 millimeters thick.
Is it good for car decals?
Because it is weather resistant and highly stable, it is excellent for creating permanent car decals.
Is it waterproof?
651 vinyl is considered water-resistant. This means that, with proper care, it can withstand being washed or rained on.
Can it be used on fabric?
All vinyls are not created equally, so it's important to make sure that you get the right vinyl for the project you have in mind. While 651 vinyl will stick to some fabrics, it is not the same as a heat transfer or iron-on vinyl.
It is possible to apply 651 vinyl to many different surfaces, but we strongly recommend choosing a more suitable heat transfer vinyl, such as ThermoFlex Glossy HTV, for any textile projects you have in mind.
Can it be used on shirts?
In order to transfer a vinyl design onto a shirt, you need to use either a heat press or a household iron. Oracal 651 is not designed to be used with a heat press, so it would ruin the shirt.
We recommend that you browse through our stock of DecoFilm and ThermoFlex Plus heat transfer vinyls instead so that you can find the perfect vinyl for your shirt designs.
Will it stick to canvas?
While adhesive vinyls typically stick to smooth surfaces best, it is possible to use 651 vinyl on canvas. It works best with smooth, treated canvases, but you can also apply a clear coat of acrylic paint to a textured canvas in order to help the vinyl stick better.
Will it stick to felt?
Felt is a difficult surface to apply any type of vinyl to because of its texture. Adhesive vinyls like 651 will not stick well to it, and the adhesive will pull up much of the felt's texture if you try to apply and then remove it.
For felt projects, it is much better to use a heat transfer vinyl like ThermoFlex Plus. However, it is extremely important to do a test run with the felt and vinyl. HTVs require high temperatures for adhesion, and some felts will burn or melt under too much heat.
How to Cut
You can use either a craft cutting machine such as Cricut or Silhouette to cut your design, or you can cut the vinyl by hand with a small, sharp tool.
How to Apply
Clean the surface you are applying the vinyl to. This helps with uniform adhesion.
Before application, double-check that you have removed all excess vinyl from your design. This is called "weeding."
For easy application, cover the design with transfer tape. Make sure to smooth out any bubbles with a scraper or credit card.
Carefully remove the carrier paper once the transfer tape is firmly in place.
Align your design on the desired surface, and press with firm, even strokes outward from the center of the vinyl. You can use a window scraper or credit card to help ensure the vinyl is fully adhered with no air bubbles.
Slowly pull the transfer tape from the vinyl, starting in an upper corner and pulling at a diagonal.
How to layer it without bubbles.
Oracal 651 can adhere to itself, which means that you can create layered designs. However, many beginners find it difficult to apply the vinyl without getting annoying air pockets in the design.
Follow the tips below to make applying and layering 651 vinyl a smooth and simple process.
Be sure that the surface you're apply to is completely clean. This allows the initial layer of vinyl to go on smoothly.
Take your time when applying each layer. Using slow, steady strokes is essential for getting a flawless finish.
Always work from the center outward to the corners. This helps to push any air bubbles out and prevents wrinkling.
If you're applying additional layers, make sure that the vinyl you are layering onto is clean, dry and wrinkle-free.
Practice applying and layering scrap pieces of vinyl before you begin your big project. The more experience you have, the easier the process becomes.
Make sure to have an appropriately sized scraper for your vinyl application. For small projects, something like a credit card works well, but for larger projects, it can be helpful to use a dedicated utility scraper specifically for vinyl projects.These tools make it easier to apply firm, even pressure, which is important for a smooth application.