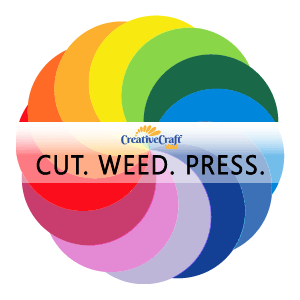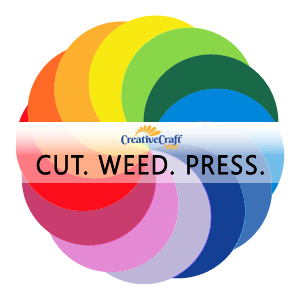 Whether you're a small business owner who is looking for a budget-friendly way to add your logo to promotional t-shirts, or you're a crafter looking for a new creative outlet, you have likely seen heat transfer vinyl mentioned as a way to make fun and unique textile projects.Before you go out and spend a lot of money on a cutting machine and all of the other accessories needed to start on this kind of project, take a few minutes to read this post and familiarize yourself with the basics of heat transfer vinyl.The questions answered in this article can save you time, money and frustration, which means that you'll be able to start creating exciting new designs much faster.
What Is HTV Vinyl?
Heat transfer vinyl, which is often abbreviated to just "HTV," is a special type of decorative vinyl that can be used to add logos or designs to clothing and fabric items.
While this might bring to mind stiff, thick vinyl stickers or childhood t-shirts with sticky and uncomfortable designs plastered to them, modern HTV is actually comfortable, soft and easy to work with. In addition, you can find this kind of vinyl in just about any color, texture or pattern that you can imagine, so the creative possibilities are endless.
How Does Heat Transfer Vinyl Work?
This type of vinyl can be bought in single pre-cut sheets or rolls of various sizes. This means that you can easily buy large or small quantities to suit your needs without worrying about waste.
Each vinyl sheet or roll consists of a shiny top layer called the carrier, the actual vinyl and an adhesive backing.
The carrier is typically a clear, polyester backing, and it is what keeps the vinyl fixed in place during the cutting and application process. Some are sticky, and others are not, so it's important to pay attention to this when you're choosing a vinyl. This sheet should remain intact during the cutting process so that it can be peeled off easily.
The adhesive backing is what secures the vinyl to the fabric, and it is what receives the cuts when you are printing a design.
The truth is that these terms are often used interchangeably in the craft world. Every brand has a slightly different name for the same type of product, so you may see some vinyls referred to as heat transfer and others as iron-on. Both will require heat and pressure to adhere to your fabric project.
It is best to carefully read the product descriptions and application instructions for any vinyl that you are unfamiliar with so that you don't accidentally purchase the wrong kind.
How to Apply Heat Transfer Vinyl
The easiest way to apply iron-on vinyl is with a heat press. These machines are available online and in craft stores, and they work by essentially creating a "heat sandwich" that presses the vinyl to your garment.
The exact application process will vary slightly depending on the fabric you're using and the type of vinyl you choose. However, the general process is straightforward, so below you will find a basic outline of how to use iron on vinyl.
First, you'll use a graphics software to create your project in mirror image so that it can be transferred correctly when you press it. Next, you'll print the image onto the vinyl and use a small blade or a special weeding tool to remove any excess vinyl from the design. "Weeding" is a crafting term that simply means "removing unwanted material from an iron-on vinyl design."
After that, you'll position the vinyl onto your fabric and use the manufacturer-recommended amount of heat and pressure to adhere the vinyl to the fabric.
What Is HTV Vinyl Used For?
Heat transfer vinyl is incredibly versatile, so you can use it for all kinds of textile projects. It's most often used on t-shirts, tote bags and sweatshirts, but it can also be applied to any of the following items:
Onesies
Tea towels
Children's clothes
Leggings
Sweatpants
Polo or dress shirts
Stretched canvas
Now that you understand a bit more about what this type of vinyl is and how it works, you're probably feeling ready to jump in and start shopping. However, if you're new to the world of iron-on vinyl, it can be overwhelming to see all of the different brands and styles available.
The "best" vinyl for you will depend somewhat on your personal preferences and the projects you want to do, but in general, ThermoFlex HTV is one of the best and most popular choices for both professionals and hobbyists.
ThermoFlex is a durable and affordable brand of iron-on vinyl. It's such a popular choice because it comes in almost any color, style, texture and finish imaginable, so you will be able to find something that suits your tastes and crafting needs.
ThermoFlex and ThermoFlex Plus are the go-to vinyl choice for many reasons. Not only is it incredibly long-lasting, but it is also smooth, soft and highly flexible. This means that you don't have to worry about cracking, twisting or peeling like some vinyl brands.
It's also considered the best for how easy it is to cut, weed and apply. As long as you follow the instructions, you'll be able to make gorgeous textile projects with little fuss or complication.
Common Questions About HTV
Can HTV designs be washed and dried?
In most cases, you can wash, tumble dry and even dry-clean clothing with iron-on vinyl designs. However, be sure to read the manufacturer's recommendations regarding the wash and dry cycles so that your designs last as long as possible.
Will heat transfer vinyl work on any fabric?
While HTV is versatile, not all brands are suitable for all fabrics. Many will not adhere to nylon or nylon blends, and some will not adhere to fabrics like Spandex or Lycra.
Can I use HTV on other materials besides fabric?
Heat transfer vinyl is not the same as adhesive vinyl. Because it requires high temperatures to adhere it to a surface, it cannot be used on most plastics, metals and other non-fabric surfaces. Some people have success with using it on certain types of wood, leather and decorative glass, but it is generally intended for textiles.
Is heat transfer vinyl dishwasher safe?
If you apply iron-on vinyl to ceramic, glass or metal that will be subjected to the heat and steam of a dishwasher, it will usually peel off very quickly. A product like the Oracal 1917 vinyl is a much better choice.
Do I need a heat press to use iron-on vinyl?
Using a heat press is generally considered the best way to get consistently great results, but many crafters also have success with using a regular household iron to adhere their vinyl designs to clothing. Because the vinyl needs consistent pressure, a household iron may not work as well as a heat press for large designs, but it should work well for smaller projects.
Let's Recap
That was a lot of information all at once, but you should now feel well-informed and ready to dive into creating exciting textile projects.
Iron-on vinyl is a versatile, durable and budget-friendly alternative to screen printing or embroidering. You can use it for big batches of t-shirts or single prints of baby onesies, tote bags or hats. Remember that this type of vinyl is not intended for most non-textile surfaces. If you plan to make things like drinkware or wall decals, you will need adhesive vinyl instead.
Learning the application process will take a little bit of trial and error, but as long as you follow the manufacturer's instructions for application and garment care, you will be able to easily create unique and personalized fabric projects that will last for years to come.